Contract Manufacturing Alliance / Co-Packing Network
Full Programming for Ohio
Ohio: Need a Commercial Kitchen
Click on our map of Ohio if you need a commercial kitchen.  We post commercial kitchens by county.  We will continue to recruit new locations to become new commercial kitchens as well will post new sites as they are created.
Types of Commercial Kitchens:
A commercial kitchen may also be called a commissary kitchen, a kitchen incubator, a food innovation center, a shared-use kitchen and others.  We recruit locations such as churches, VFW halls, county fair sites, restaurants, coffee shops, smoothie shops, wedding and event halls and other sites with fully-prepped kitchens.
Complete Incubation Programs for Clients:  The Ohio Valley Team (part of the Co-Packing Network), helps brands with anything to do with the business.  From our Chicago, IL and Troy, MI bases we are available for any subject that involves with the following area:

Innovating a Brand: We help with everything from brand concepts, first-run recipes, branding exercises, customer research, competitor research, retail and format planning and anything else with the ideas behind the new brand.
Creating a Brand: Most importantly with finding a contract manufacturer, we also help brands with ingredients, packaging, first test-runs, shelf-life testing, pilot plant testing and much more.
Launching a Brand: After a product is created, we are vital for the launch of the brand into the marketplace. We have internal and external teams that cover most retail, food service and e-commerce channels (www.RetailFormats.com)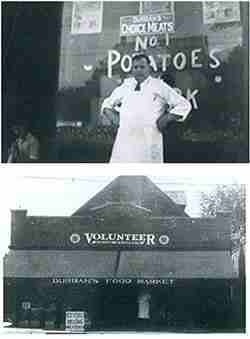 Our Family Created a Small Chain of Grocery and Meat Markets in With Stores in the States of Ohio, Pennsylvania and Indiana (Eventually Opening Up Stores in California). Peter Durban started a small meat and grocery chain (1930's) called Durban Foods in the Akron, OH area. As a member of the Volunteer Food Stores Coop, Durban Foods grew to a- number of locations in Canton, OH, Youngstown, OH and Newcastle, PA and other cities.
The family were also pioneers in becoming manufacturing and distribution partners with chains such as McCrory Stores, WL Grant, JJ Newberry, Woolworth's, Kress and other regional chains during this time.
www.McCroryStores.com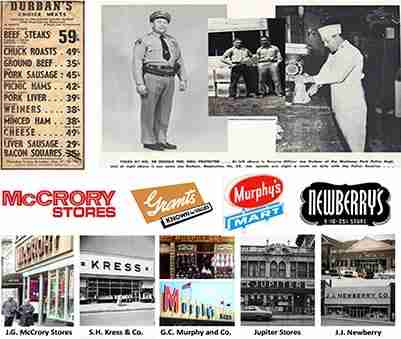 Core Customers:  Retail and Food Service
Ohio is home to a-number of important customers who are ideal to look at for distribution.  These include Bath and Body Works, DSW Shoe Warehouse, Rex Stores, Kroger Corp, Berean Book Stores, Holland Oil, Speedway/Superamerica, United Dairy Farmers, Leisure Systems, Jo-Ann Fabrics, Pat Catan's, Big Lots, Mazell Stores, Serv A Rack, UTM Distributing, Marc's, Champagne Landmark, Mercer Landmark, The Andersons, Carlton Cards, Dave's Marketplace, Fresh Encounter Markets, Mattingly Foods, Victory Wholesale Grocers, Carter Lumber, Bostwick-Braun, Kitchen Collection, Bigg's Markets, Big Bear Stores, Office Max, Arrow Distribution, Fitness Quest, Discount Drug, Medic Drug, Leader Drug, Flower Factory, Englefield Truck Stops, Travelcenters of America, Raisin Rack, West Gate Health Foods, Discount Drug Mart, Holland Oil, Mustard Seed Markets, UTM Distributing, Whole Foods, Bob Evan's Restaurants, Frisch's, Cedar Fair, Clark Food Service, Cleveland Cinemas, Wheaton's, Select Restaurants, Arabica Cafes, Winking Lizards Taverns, Zeppe's Pizza, We're Rolling Pretzel and others.
State Department of Agriculture of Ohio
The mission of the Ohio Department of Agriculture is to protect Ohio citizens by ensuring the safety of the state's food supply, to maintain the health of Ohio's animals and plant life, and to create economic opportunities for Ohio's farmers, food processors and agribusinesses.
www.agri.ohio.gov
Ohio Proud: When you see the Ohio Proud logo, you know you are getting Ohio-made and grown products. From fresh meats, fruits and vegetables, to dairy products and snack foods, you can find Ohio Proud products in your favorite grocery store and at your local Farm Market. Ohio Proud is a quick and reliable way for you to identify Ohio-made and grown goods.
Agriculture is Ohio's number one industry, contributing more than $105 billion to the state's economy. Ohio is home to more than 1,000 food processing companies and produces more than 200 commercial crops. Of these, the Buckeye State is a leading producer in more than 35 product sectors.
www.ohioproud.org