State Department of Agriculture Program: Iowa
State Department of Agriculture of Iowa
The approximately 345 employees of the Iowa Department of Agriculture are responsible for a wide range of programs that affect the quality of life of every Iowan.  Both Iowans living on the farm and those in our towns and cities are impacted almost daily by the work of the Department. It's mission is to provide leadership for all aspects of agriculture in Iowa, ensure consumer protection and promote the responsible use of our natural resources.
http://www.iowaagriculture.gov/
Choose Iowa™ is a state-identity promotional program designed specifically for Iowa companies whose products are grown, raised, processed or manufactured in Iowa
Promotes the image of Iowa and the value of Iowa products, people and places.
Builds a state-identity program to increase awareness and demand for Iowa products.
Maximizes marketing efforts for Iowa's ag-based businesses.
Provides educational opportunities to increase the knowledge and skills of Iowa's agricultural entrepreneurs.
Business owner networking.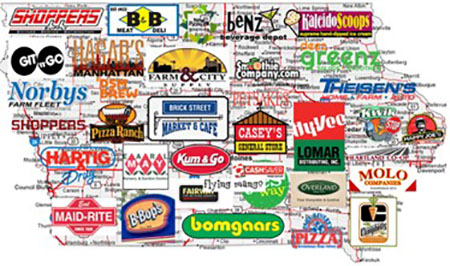 Core Customers:  Retail and Food Service
Iowa is home to a number of important customers who are ideal to look at for distribution.  These include Hy-Vee Stores, Casey's General Stores, Krause Gentle Corp, Bomgaar's Supply, Earl May, Everly Farm and Home, Heartland Co-ops, Norby's, Shopper's Supply, Theisen Supply, Coach House Gifts, Dahl's Foods, Fareway Foods, Git n Go, Molo Oil, Kum and Go, Farner Bocken, The Right Stuff, Hartig Drug, Overland Outfitters, B-Bop's Diners, Consolidated Mgmt, Maid-Rite Corp, The Pizza Ranch, Piccadilly Circus Pizza, Panchero's, Paul Revere's Pizza, Happy Joe's Pizza, etc.